Much has been written about the Amazon 'Sumerian' browser. It was unveiled in 2017 & since then has been under development. Now, says Amazon, the browser is open to all.
Here's what Sumerian allows you to do:
Create & run Virtual Reality (VR), Augmented Reality (AR), & 3D applications without requiring any specialized programming or 3D graphics expertise
Build highly immersive & interactive scenes that run on popular hardware such as Oculus Rift, HTC Vive & HTC Vive Pro as well as Android & iOS mobile devices.
As an example how you may use this "unique" browser, here's an example given by Amazon: You can build a virtual classroom that lets you train new employees anywhere in the world, or you can build a virtual environment that enables people to tour a building remotely.
Now, anyone, you or me, even, without any, & I mean, any knowledge of coding or 3D graphics knowledge can use this new browser to create realistic virtual environments. No need to have any specialized specialized tools for 3D modeling, animation, lighting, audio editing, or programming. Once built, you can deploy your finished creation across multiple platforms without having to write custom code or deal with specialized deployment systems and processes.
Sumerian gives you a Web-based editor that you can use to quickly and easily create realistic, professional-quality scenes. There's a visual scripting tool that lets you build logic to control how objects & characters (Sumerian Hosts) respond to user actions. Sumerian also lets you create rich, natural interactions powered by AWS services such as Amazon Lex, Polly, AWS Lambda, AWS IoT, & Amazon DynamoDB.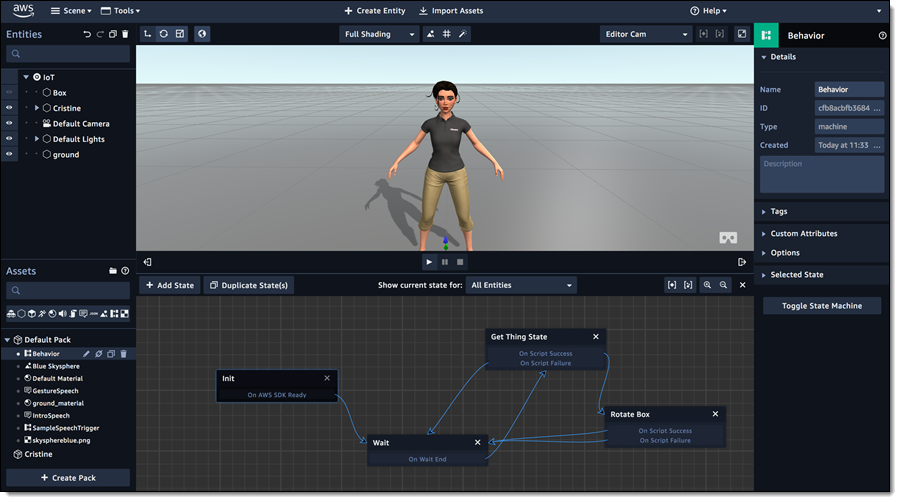 Chief Evangelist for AWS Jeff Barr writes:
During the preview period, we have been working with a broad spectrum of customers to put Sumerian to the test and to create proof of concept (PoC) projects designed to highlight an equally broad spectrum of use cases, including employee education, training simulations, field service productivity, virtual concierge, design and creative, and brand engagement. Fidelity Labs (the internal R&D unit of Fidelity Investments), was the first to use a Sumerian host to create an engaging VR experience. Cora (the host) lives within a virtual chart room. She can display stock quotes, pull up company charts, and answer questions about a company's performance. This PoC uses Amazon Polly to implement text to speech and Amazon Lex for conversational chatbot functionality.
Here are the 2 Hosts:
If all of this interest you, go to the Home Page of Sumerian to get going.
Source: Amazon blog
---